John Raby, Founder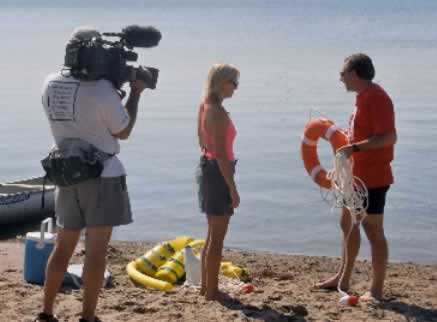 John Raby has been involved in the field of aquatics since 1978.  As an employee of Minnetonka Public Schools from 1978-2004, he has had extensive experience lifeguarding and managing both pools and waterfronts. John is now pursuing his passion for aquatics and training through his own company.

John is nationally known for his expertise in water rescue techniques.  He was one of the technical reviewers of the current American Red Cross Lifeguard Training program, and was on the development team for the American Red Cross "GuardStart" program, which is the American Red Cross Jr. Lifeguard Program.

Working with the MN DNR and the Hennepin County Sheriffs Department, John was an instructor for the water rescue portion of the 2003 MN Marine Rescue School, offered statewide to conservation officers and sheriff deputies.

John also works with the Twin Cities Area Chapter of the American Red Cross as a volunteer.  These volunteer duties include training instructors, serving on committees, and assisting with special events such as the annual Lifeguard Olympics. As a "Subject Matter Expert", John contributed to the 2017 update to the Red Cross Lifeguard course.

For several years, John was a part of the Lifetime Fitness Triathlon in Minneapolis, recruiting and supervising lifeguards for the swim portion of the triathlon.
His involvement with water safety has also led to appointment as Operational Risk/Safety Coordinator to the Minnesota Swimming board of directors, where he  has served or several years.
His passion for safety also bleeds into his personal recreation activities: As a member of the Minnetonka Power Squadron he has served as Education Officer, is currently Executive Office, and is slated to be Commander in 2018. At a national level with the United States Power Squadron, he has received advanced education in safe boating, and has become a safe boating instructor.


Certifications
John is currently certified in the following American Red Cross programs:
Aquatic Examiner
CPR for the Professional Rescuer AED Instructor Trainer
Water Safety Instructor Trainer
Lifeguard Training Instructor Trainer
Waterfront Lifeguard Instructor Trainer
Water Park Lifeguard Instructor Trainer
Small Craft Safety Instructor Trainer
Community CPR and First Aid Instructor
Sport Safety Training Instructor
Lifeguard Training student level
CPR for the Professional Rescuer AED student level
Presentations
2013 Minnesota Swimming Inc (USA Swimming): Emergency Action Plans
2013 Minnesota Community  Education Association:  Is Your Aquatic Program as Safe as You Think It Is?
2013 Minnesota Community  Education Association: Pool Management Essentials
2011 Minnesota Recreation and Parks Association: The Emergency is over, the Attorneys and Risk Managers Are Gone. Now What?
2006 St. Paul Red Cross: The Ins and Outs of In-service Training
2006 MNSACA Conference: Aquatic Facilities and Your Program
2005 St. Paul Red Cross: The Ins and Outs of In-service Training
2004 WCCO TV: Water Safety "Staying Alive
2003 MN Aquatics Conference: In-service Training for Aquatics Personnel
1998 MN Aquatics Conference: Aquatics Management for Dummies
1996 MN Aquatics Conference: In-service Training for Lifeguards
1995 MN Community Ed. Association Conference: Aquatics Programming
1991 MN Aquatics Conference: Hiring, Training and Retaining Staff
1991 MN Aquatics Conference: Aquatics Program Ideas